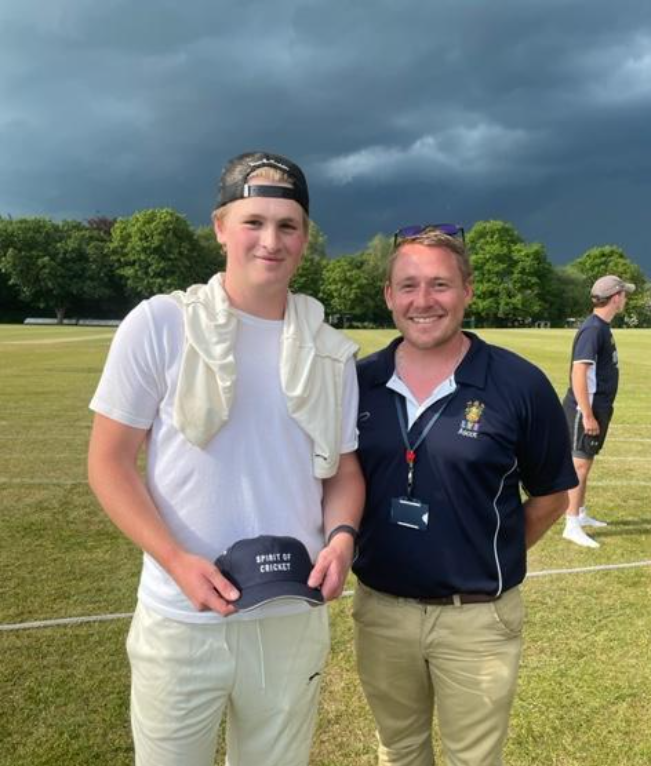 What a smashing day it was at the MCC cricket game on the 12th June 2023. The cheers and applause were well deserved as Edward delivered an outstanding performance, taking six wickets against the MCC. But that's not all. We have some thrilling news to share – Edward has been awarded the prestigious English Speaking Union Academic & Sports Scholarship to Asheville School, located in North Carolina.
The cricket game at the MCC was a memorable event, and Edward's exceptional performance stole the spotlight. With his remarkable skill and determination, he claimed an impressive six wickets, leaving both spectators and teammates in awe of his talent. Edward's dedication to the sport has paid off, and his achievements on the cricket field serve as a testament to his hard work and passion.
In addition to his cricket success, we are thrilled to announce that Edward has been awarded the highly prestigious English Speaking Union Academic & Sports Scholarship to Asheville School. This scholarship recognizes Edward's outstanding academic and sporting abilities and provides him with an incredible opportunity to further his education and athletic pursuits.
Asheville School sits within the top 10 private boarding school's in the United States: Come August, Edward will be joining the graduating class of 2024. Asheville School is renowned for its exceptional academic curriculum, dedicated faculty, and vibrant campus life. With a campus sprawling across 500 acres at the foot of the Blue Ridge Mountains, Asheville School offers an ideal environment for growth and exploration.
Edward is eagerly anticipating his time at Asheville School, where he will have the opportunity to delve into a range of academic subjects and sports. In addition to pursuing his passion for cricket, Edward looks forward to exploring American Football, Baseball, and Tennis. With a curriculum that includes fascinating subjects like American History, Politics, Culture, and even Body Building, Edward is set to embark on a journey of intellectual and physical development.
Asheville School boasts unrivalled sports facilities, including its own American Football stadium. This provides Edward with a platform to further hone his athletic skills and compete at a high level. The English Speaking Union Academic & Sports Scholarship, worth 75,000 USD, demonstrates the recognition of Edward's talent among a pool of approximately 1,000 applicants. Only 10 students were awarded this prestigious scholarship, highlighting Edward's exceptional abilities.
Edward's dedication and talent have paved the way for a bright future filled with new experiences, academic excellence, and continued sporting success. We wish him all the best as he embarks on this exciting journey at Asheville School and beyond. Congratulations, Edward!
You may also like to read