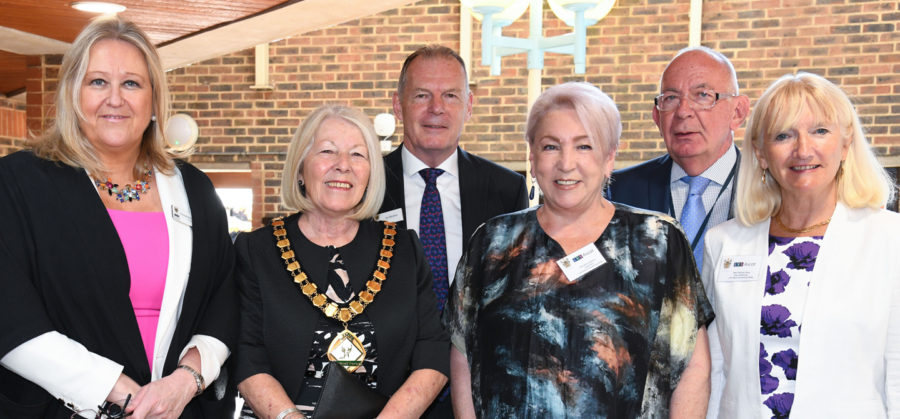 Meet our highly experienced and dedicated team
A team of highly qualified and experienced teachers operate as a Senior Management Team to oversee the organisation of the Infant & Junior School, Senior School and Sixth Form as a whole.
Mr Ian Mullins is the Director of Education for the school's founding body, the Licensed Trade Charity.  Mrs Christine Cunniffe is our School Principal who leads the Senior Management Team across the Senior, Sixth Form and Infant Junior School.
Over 180 specialist teaching and support staff work throughout all departments to care for the educational, physical, social and mental well-being of all our pupils.
Strategic Leadership and Management Team
The Strategic Leadership and Management Team comprises the School Principal and the Deputy and Assistant Heads.  The team is further supported by the Head of Admissions and Administration, Head of Boarding and the Head of Digital Transformation.
Governors
Chair of Governors – Toby Brett
Chair of Safeguarding and Pupils' Physical & Mental Health & Emotional Wellbeing sub-committees
Outgoing Chair - Anita Adams
Chair of Boarding sub-committee
Chair of EYFS – Pauline Ross
Chair of Pupils' Education, Training and Recreation sub-committee
Mike Hill
Vice-Chair of Pupils' Physical & Mental Health & Emotional Wellbeing sub-committee
Trevor Sparks
Chair of Governance, Leadership and Management sub-comittee
Trevor Heyburn
Chair of Pupils' Contribution to Society sub-committee
Anthony Mears
Chair of Marketing, Recruitment and Communications sub-committee
Senior Management Team
Sharon Petrault
Deputy Head - Academic/Director of Studies
Laura Collins
Deputy Head - Wellbeing, Personal Conduct Designated Safeguarding Lead & Compliance.
Freya Wall
Deputy Head - Pupil Outcomes, Careers Leader, Personal Development & Co-Curricular, Head of Years 10-11
Richard Fraser
Senior Assistant Head – Pupil Outcomes, Personal Development & Co-Curricular, Head of Years 7-9
Simon Moore
Senior Assistant Head – Sixth Form
Kate MacKrell
Senior Deputy Head - Infant and Junior School
Frances Izod
Deputy Head Academic / Director of Studies - Infant and Junior School
Registered office of the Licensed Trade Charity, LVS Ascot's proprietor:
Heatherley
London Road, Ascot
Berkshire, SL5 8DR
Telephone: +44 (0)1344 882 770
If you would like to contact chair of the governing body, Mr Toby Brett, please email Clare Clark, Clerk to the Trustees: