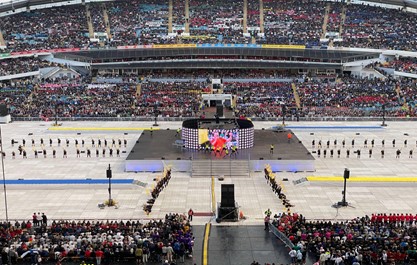 The second week of the summer holidays saw 3 of our pupils head to Gothenburg to compete at the Gothia World Youth Cup. They were travelling to the tournament having been selected for the Prep Schools' Lions Teams, the Independent Schools Regional Representative Football Team.
Players from over 100 schools and some 260 pupils had attended the boy's trials in October 2022, so selection in itself was an achievement. The squads attended a 3 day Training Camp in the Easter holidays and headed to Gothenburg full of excitement.
The Gothia World Youth Cup is the world's biggest youth football event. Some 58,000 people, including many parents, family and supporters of the players, were in the famous Ullevi Stadium for the impressive Opening Ceremony. The stadium itself was built for the 1958 World Cup which was held in Sweden and the tournament was famous for the debut of the 18 year old 'best player of all time' Pele.
The football itself was very fast, skilful and highly competitive against teams which in many cases were from professional academies and feeders for some of Europe's top senior sides.  The standard was very high but the Lion's teams performed very well under some excellent coaching. The staff for each team included an experienced Coach and Sports Therapist and outside of matches the players attended workshops covering a wide range of topics such as nutrition, hydration, yoga and of course sleep. The trip also provided an opportunity for players to gain independence and develop life skills away from their parents!
Honor (Yr. 7) and Eva (Yr. 6) represented LVS who played for the girls Prep School Lions U12 Red team, this team was third in their qualification group and went into the Gothia Plate competition; they reached the semi-final and after a tough close game, were only beaten on penalties by the other Lions U12 Girls White team who then went to the final but unfortunately lost to a strong Swedish team.
Harley from LVS (Yr. 7)  represented LVS for the boys Prep School Lions U12 White team who came up against some very strong competition from Sweden and Germany in the qualification group stage, finally finishing second in their group. The top two from each of the 24 qualification groups went forward to the knockout phase of the main U12 Gothia Youth World Cup competition and Harley scored the winning goal in the final qualification group game for the team to qualify. They were eventually knocked out by a team from Lithuania.
For the three LVS children who were lucky enough to be selected this really was an experience to remember.  It's not often that you have the chance to pit yourself against some of the best young players in the world and they all returned to England stronger from the experience. A huge well done to you all.
You may also like to read