The LVS Advantage Careers Programme
The LVS Advantage programme aims to give students the advantage they need when taking their steps, either into further education or the world of work.
Entering the world of university, apprenticeships or work can be a challenge for Sixth Formers when their experience is limited.
The LVS Ascot Advantage programme aims to give students the skills and tools to stand out and rise above their peers. It supports them in achieving their next step goals, whatever those may be.
The LVS Ascot Advantage Programme is Gatsby compliant. The Gatsby Benchmarks are a framework of 8 guidelines that define excellent career guidance, which the Department of Education (DfE) expect schools and colleges to meet.
How we meet those benchmarks:
A stable careers programme
As a school we have a careers programme in place for all year groups via our careers roadmap. Teachers, pupils, parents, alumni and employers input into the schools careers roadmap.
Learning from careers and labour market information (LMI)
This benchmark allows students and parents to have access to good information about what jobs are available in their local area, what business are situated near them, what areas need more employees and which jobs might not exist in the future.
Our students have access to up to date labour market information via E-clips and an internal e-jobs board via Teams. We also offer students LMI through World of Work talks and events in schools right through from Year 7-13.
Addressing the needs of each pupil
All of our students have different career aspirations and will need different guidance at different points in their education. The careers guidance and education needs to be tailored to reach students. During their time at school our students will have individual interviews to discuss their next stage, opportunities to visit businesses and further education settings and additional support if they require it.
Linking curriculum learning to careers
Through LV4Life and LVS1, our teachers enjoy linking careers to their subject area. Lessons include employability skills such as presentation, team work and leadership. There is a folder in Teams for teachers to access careers linked to their subjects. During National Careers Week, teachers and tutors used these resources to promote careers through their subject lessons.
Encounters with employers and employees
Students need to have multiple encounters with employers so they can learn what the world of work is like. The World of Work parent group was set up to bridge the gap between school and employers – LVS has numerous events each year set up by the schools careers team and the WoW group.
Sessions include employer panel sessions, careers speed dating sessions and work experience placements.
Experience of the workplace
The World of Work parent group was set up to bridge the gap between school and employers – LVS has numerous events each year set up by the schools careers team and the WoW group. Sessions include volunteers from industry visiting the school to talk about their careers.
All subject teachers are encouraged to run trips to expose students to the world of work. We have taken our primary and KS3 students to Kidzania in London and on many STEM visits to local and national events.
Encounters with further and higher education
All students must have encounters with colleges, 6th forms, learning providers and universities and work based learning. As a school we promote open days and apprenticeship fairs to ensure our students know where they can access information on all post 16 and 18 options. Some of the universities we currently work with are Royal Holloway University of London and Reading University who are situated close by.
Personal guidance
All students must have access to impartial advice about their career choices. We employ Adviza to deliver this guidance, and our independent careers consultant is Georgina Lindsay who works with our students. She works with year 9, 10, 11 and Sixth Form students to make sure they are making the right decision at post 16 and post 18.
Resources and Opportunities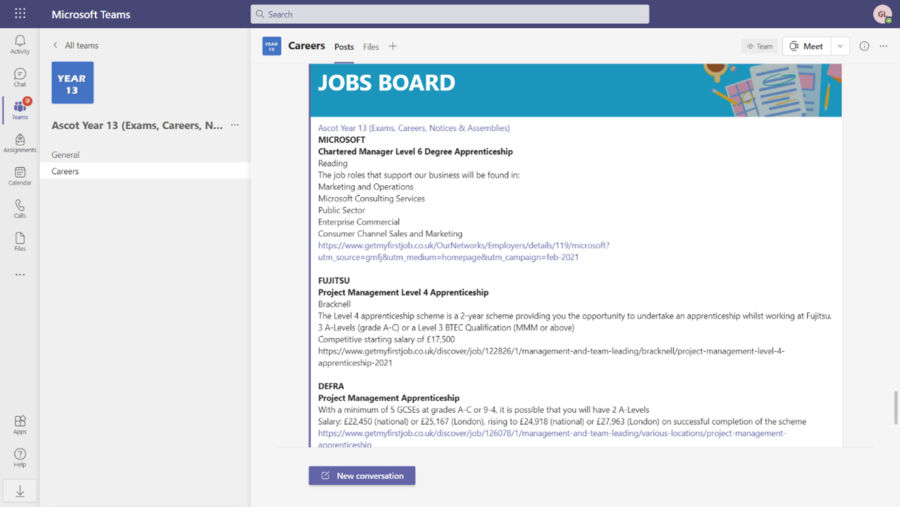 The LVS Ascot Jobs Board
Our regularly updated Jobs Board includes job, internship, and graduate programme opportunities.
The jobs board is available to LVS Ascot students through their school O365 account on Teams. The LVS Ascot jobs board gives students access to a list of jobs, apprenticeships, work experience and graduate programme opportunities, including those made available through collaboration with WoW group members.
Internships
An internship is a period of work experience typically lasting anything from 2 weeks to 12 months. Most take place for around 3 months during the summer holidays.
Many are paid opportunities though some are unpaid or only cover the cost of your expenses like travel costs.
Companies in a range of sectors offer internship opportunities for 18 year-old school leavers, undergraduates and graduates.
Graduate Programmes
Graduate schemes are advertised by many employers for students who have completed a degree.
As a graduate trainee, you'll benefit from being handed responsibility from the outset, an opportunity to gain hands-on experience and develop a broad understanding of your chosen profession, as well as receiving support in building key skills.
LVS Ascot's alumni programme allows former students to stay in touch with each other and remain part of the school community after they leave.
All our former students contribute to our community.
LVS Ascot is very proud to help give students the best start in life and better prospects for future careers. We encourage them to stay in touch with us and let us know what they are doing. 
We encourage our alumni to give our current students the benefit of their experience.
Will & Conor recently returned to LVS Ascot to talk about their experiences, their journey to where they are now and how their time at LVS Ascot prepared them: